I have a CakePHP 4 application which uses PHP 8.1 and ICU version 72.1

php -i | grep -i icu
ICU version => 72.1
ICU Data version => 72.1
ICU TZData version => 2022e
ICU Unicode version => 15.0

The dates output by this version of ICU have a nnbsp NARROW NO-BREAK SPACE between the time and the am/pm
When exporting a CSV file using CsvView and opening it in Excel the space between the time and the am/pm is displaying garbled as a number of characters: ` '
You can simply do a fined and replace of   and move on.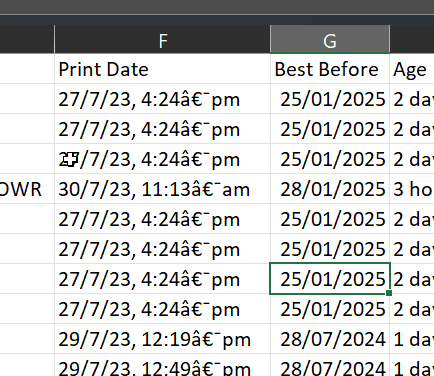 Or you can open as UTF-8 in Excel to display correctly
Click Data => From Text/CSV
The File Origin Should be UTF-8. Click the Load button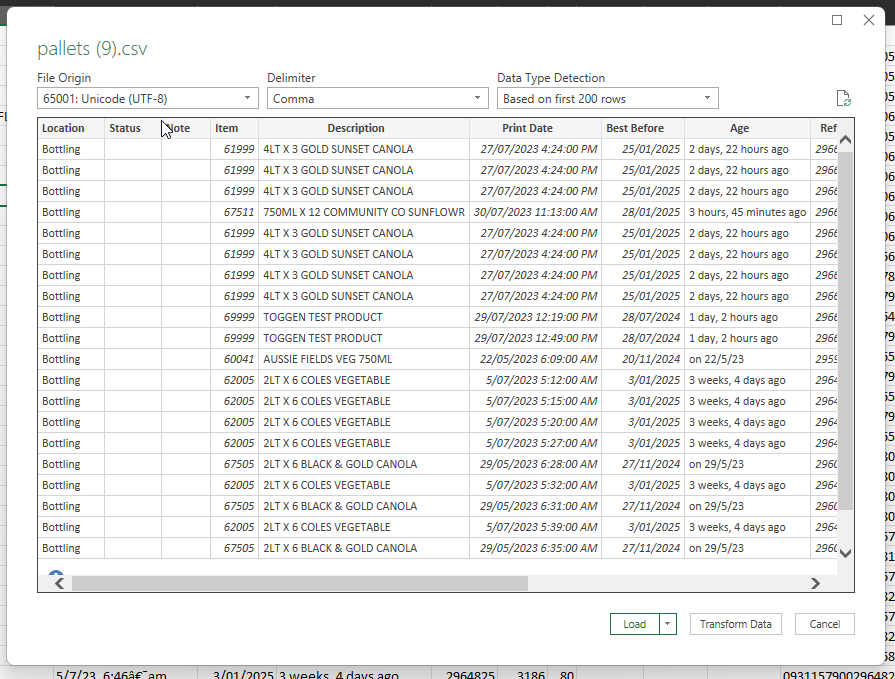 The date should now display correctly
To find what character it was
Open the CSV file in VSCode. Copy and paste the garbled character into a PHP script below and run it.


<?php
include '../vendor/autoload.php';

use Cake\I18n\FrozenTime;

$dt = "22/5/23, 6:09?am";

$dtString = FrozenTime::now()->i18nFormat(\IntlDateFormatter::SHORT, 'Australia/Melbourne');

var_dump($dtString);

// need to use mb_str_split NOT str_split
 foreach (mb_str_split($dtString) as $letter) {
    var_dump(['letter' => $letter, mb_ord($letter, 'UTF-8')]);
 };

var_dump(mb_ord('?'));
var_dump(IntlChar::charName('?'));
var_dump('U+' . strtoupper(dechex(IntlChar::ord('?'))));
var_dump(dechex(IntlChar::ord('?')));
var_dump(
    IntlChar::CHAR_CATEGORY_SPACE_SEPARATOR
        ===
        IntlChar::charType(IntlChar::ord('?'))
);


Output

string(18) "30/7/23, 3:31?pm"
array(2) {
  'letter' =>
  string(1) "3"
  [0] =>
  int(51)
}
array(2) {
  'letter' =>
  string(1) "0"
  [0] =>
  int(48)
}
array(2) {
  'letter' =>
  string(1) "/"
  [0] =>
  int(47)
}
array(2) {
  'letter' =>
  string(1) "7"
  [0] =>
  int(55)
}
array(2) {
  'letter' =>
  string(1) "/"
  [0] =>
  int(47)
}
array(2) {
  'letter' =>
  string(1) "2"
  [0] =>
  int(50)
}
array(2) {
  'letter' =>
  string(1) "3"
  [0] =>
  int(51)
}
array(2) {
  'letter' =>
  string(1) ","
  [0] =>
  int(44)
}
array(2) {
  'letter' =>
  string(1) " "
  [0] =>
  int(32)
}
array(2) {
  'letter' =>
  string(1) "3"
  [0] =>
  int(51)
}
array(2) {
  'letter' =>
  string(1) ":"
  [0] =>
  int(58)
}
array(2) {
  'letter' =>
  string(1) "3"
  [0] =>
  int(51)
}
array(2) {
  'letter' =>
  string(1) "1"
  [0] =>
  int(49)
}
array(2) {
  'letter' =>
  string(3) "?"
  [0] =>
  int(8239)
}
array(2) {
  'letter' =>
  string(1) "p"
  [0] =>
  int(112)
}
array(2) {
  'letter' =>
  string(1) "m"
  [0] =>
  int(109)
}
int(8239)
string(21) "NARROW NO-BREAK SPACE"
string(6) "U+202F"
string(4) "202f"
bool(true)