Update: 23 Dec 2015 – Just logged into the web admin page and there was an update available. Clicked to download and install the update and now the issue mentioned below are fixed.
Note: This is one of those annoying "I have a problem without a solution" posts. No fix yet….
OK so due to a delay in my cable installation, at my new digs in Melbourne, I have had to purchase an interim service in the form of a Telstra 4G My Pocket Wi-Fi Ultimate pre-paid mobile device. Telstra is providing this on my account until the cable installation completes. Which I am very grateful to them for.
Incidentally if you are really serious about bandwidth in Australia, and can bear the cost then the Telstra network can provide you with high levels of both: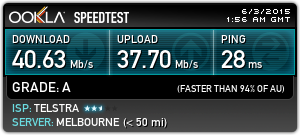 In my view, the other competing carriers (Optus etc) can provide similar levels of service in the capital cities, but not nearly as consistently as Telstra does.
Anyway the modem works fine I can connect up to 10 devices, I have the option of two wireless network frequencies 2.4 and 5GHz and have found it creates a nice network, for my HP printer, Wifes iPad & iPhone, my Samsung Galaxy Note 4 and Macbook Pro.
However there is an annoyance. The modem and it's corresponding status webpage you can access at http://m.home both fail to display the expected data available and time remaining.
The display screen on the modem is stuck at "Detecting Service"
The admin webpage at http://m.home is missing the data too.
Interestingly the modem (I probably should call it a 4g wi-fi device to be more accurate, just replace modem with 4g wi-fi device) calls out to the Telstra servers using AJAX and it appears the call fails (not with a 404 but with a lack of data).
I'm hoping that the Telstra technician I called and spent ages (33m:35s) on the phone with (I'm not the only one, see the comments here) is right and that 24hrs might need to elapse before it works…. But I find that argument a bit illogical because at the moment you activate the service they have all the data needed to get the screen status working. I think he (the Telstra Tech) was doing a "Hey Buddy, I don't know what the problem is, but wait 24hrs and we can both have a breather" thing.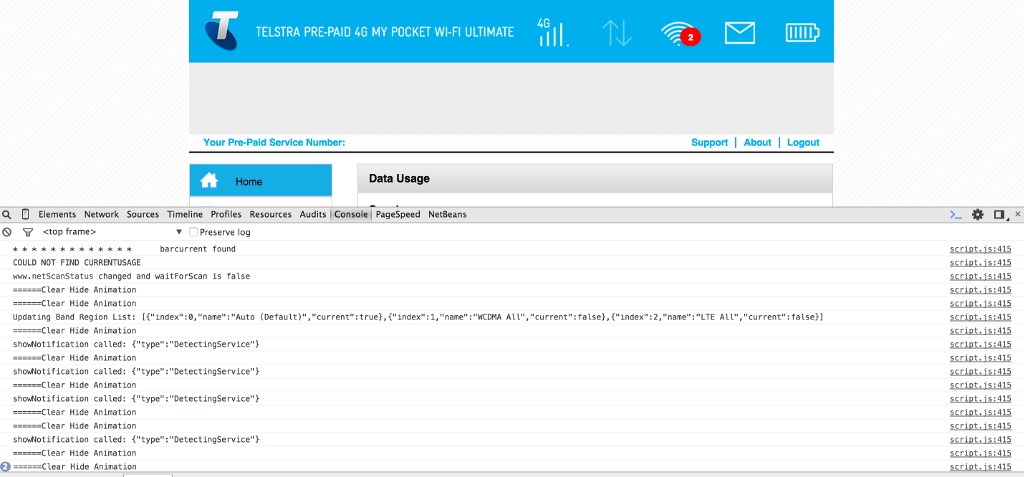 So this is what I've found so far. No answers. I'm hoping knowing that I haven't found a fix may help some other netizen who is having the same challenge.