Just got this error when running vmware convertor on Windows 7 to transfer an XP image to ESXi 4.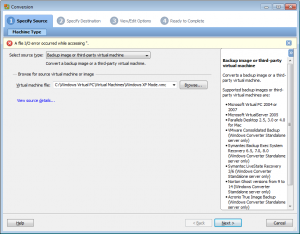 Looks like VMWare Convertor can't find the files.
Opening the Virtual PC's settings and you find that it is referencing a `Parent Disk'. Copy the this file to the same directory:

You should now be able to copy the VM up to your ESXI server.
Note: You need to have the Virtual PC in a Powered Down state in order for VMWare Convertor to work.