I have a Symbol VC5090 mobile computer. The Symbol remote control client starts at 1400+ AUD and rises from there. So to work around this I Googled for vnc for Windows CE 5.
Because the only application I could get to on the VC5090 is internet explorer I unzip the above file to a local webserver
On the VC5090 using Internet Explorer download the files to \Application\winvnc (You should end up with vncconfig.exe and winvnc.exe in this directory)
Create a file with "\Application\winvnc\winvnc.exe" as it's contents (I didn't use the double quotes) and save it as \Application\Startup\winvnc.run. I created this file with the installed wordpad application and saved it as plain text. If you do this you then have to use the command prompt to rename the file from the name Wordpad saves (winvnc.run.txt) to the correct name winvnc.run.
Create a registry file named winvnc.reg and copy it to the \Application folder (This should contain your user name and password settings for efonvnc. Sorry I don't have a sample at the moment email me.
And heres a picture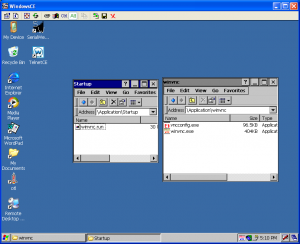 Learnings:
I tried copying the vnc files to \windows\*.* and adding a startup shortcut into \windows\startup. But when the unit was removed from the mains and repowered the files disappeared (I think \windows is loaded from a fixed image wiping out any changes you make).