Just saw this in my inbox. An email saying I need to change my Logmein.com SSL cert and a link to 'new' cert.
Screenshot of the email: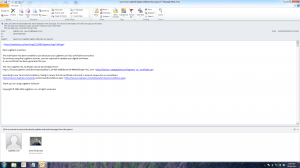 If you Download the ssl.zip and unzip it you get a "logmein_ssl_certificate.pif: PE32 executable (GUI) Intel 80386, for MS Windows"
Fortunately before you get to download the zip file you get a nice big warning page from the Cloudfare CDN saying it's a fishing site. So you would have to be stupid (or in my case curious) to continue.