Bluefish is a really cool "Web Development Studio" I find it's side pane CSS and HTML reference invaluable when trying to code HTML.
It has recently been ported to Windows
As it installs, everything pretty much works out of the box, but it's Linux heritage shows when trying to use the External ==> Commands menu. None of the supplied options work.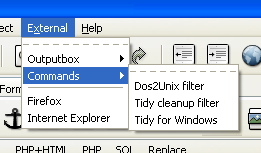 The "Tidy cleanup filter" commands fail because tidy doesn't exist and because the command is constructed for a Linux environment.
Tidy for Windows to the rescue.
Download the tidy.zip and unpack tidy.exe to somewhere in your %PATH% e.g. C:\Windows\System32
In bluefish goto the Edit menu ==> Preferences ==> External Programs and under the Utilities and Filters area add new entry with a Label named "Tidy for Windows" or whatever you want and a Command of
tidy.exe -indent --tidy-mark 0 -q -wrap 0 -utf8 -output "%f" "%s"
Obviously you can experiment with the tidy command options until you get what you want.
I personally prefer my html to be unwrapped and indented. I also had to add --tidy-mark 0 so that tidy wouldn't add a generator meta tag and then on save bluefish would add it's own aswell.
Here is a picture of the added command. I have left the old Linux style commands to provide a comparison:


From the above picture you may note that I have also created a "Tidy for Cygwin" entry which works just as well as the Windows setup but this requires a serious amount of harddisk space for the installation of Cygwin.
To get it working from Cygwin you need to add the path to your Cygwin bin directory (usuall c:\cygwin\bin) to your Windows %PATH% environment variable.