On Ubuntu
Using sudo system-config-printer publish the printer and enable sharing for the LAN. This will allow IPP printing but restrict clients to the local network IP Addresses only.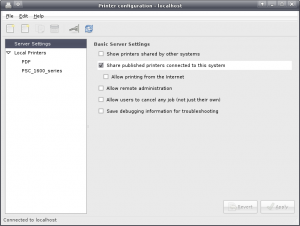 On Windows XP
Add a printer and choose:
A network printer, or a printer connected to another computer.
Connect to a printer on the internet or on a home or office network.
In the URL field enter http://ipaddress_of_linux_computer:631/printers/name_of_printer
http://10.31.32.44:631/printers/PSC_1600_series
For the printer driver select either
Apple Color LW 12/660 PS or
Apple Color LaserWriter 12/600
Try and print a test page
From Windows XP you should be able to get a web page of the remote Ubuntu's printers via
http://10.31.32.44:631/printers/
If you can't then it's possible you need to go back to Ubuntu and have a play with system-config-printers.
If you want to install the Adobe Postscript driver instead of Apple ones then you can download the Ubuntu ppd and use it in the Adobe PS Driver setup from:
http://10.31.32.44:631/printers/PSC_1600_series.ppd
Problems: On the Windows XP home computer the print job will be sent and print fine, but when looking in the Printers and Faxes folder or by opening the printer the printer status will stay as "Processing". This doesn't appear to effect the printing however. New jobs seem to replace the old job with no apparent ill effects.