On May 19 2014 Google made an Algorithm change as can be seen at this Google Algorithm Change History page.
Around the same time I moved my website from Rackspace to DigitalOcean
Anyway, a day or so later I noticed a marked increase in daily traffic. I thought perhaps the transfer to a different hosting provider had something to do with it, but from the looks of it the spike in traffic was due to the Google Panda 4.0 algorithm which has favourably increased traffic to WordPress content, which is the blogging software this site runs on.
You can see from this graphic this has been a solid change.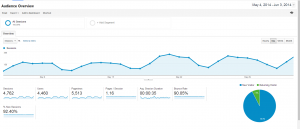 However Google Algorithm Changes can greatly effect traffic to your site. In April 2012 I suffered a roughly 50% drop in traffic from what I believe was the Penguin — April 24, 2012 Google Algorithm update.
And I have never regained the traffic. But I'm not bitter.
Assuming that the "editorial content" of this blog has remained fairly consistent then Google Algorithms excert a massive and profound influence on whether people will see, or even be able to find your content when they search.
Beside the small advert in the right sidebar I haven't "monetized" this blog so the traffic swings aren't really a big problem. People that rely on the $latex traffic = money$ equation would be heavily effected by Algorithm changes.