H,mong retreat is nestled half way up a mountain overlooking a valley filled with rice paddies, villages, schools and a river. The cabins are constructed of palm leaf roofs, mud lathe walls and half round timber floors. During the day you can see light through the walls and floor. After treking through the valley and seeing the villagers houses staying at the H'mong retreat will give a westerner an almost authentic feel of what people live like.
The cabins, actually I should call them huts are placed on stumps above rice paddies so you are literally in a rice paddie field. Each hut has stone path leading to it.
A larger two storey constructed building contains shower facilities, and an upstairs restuarant area. It is filled with interesting pottery, hangings and pieces of furniture including swings and a hammock and an open fire.
This is a rustic experience. We slept the night with the doors of our hut open toward the valley. It was a cool night but we werent cold.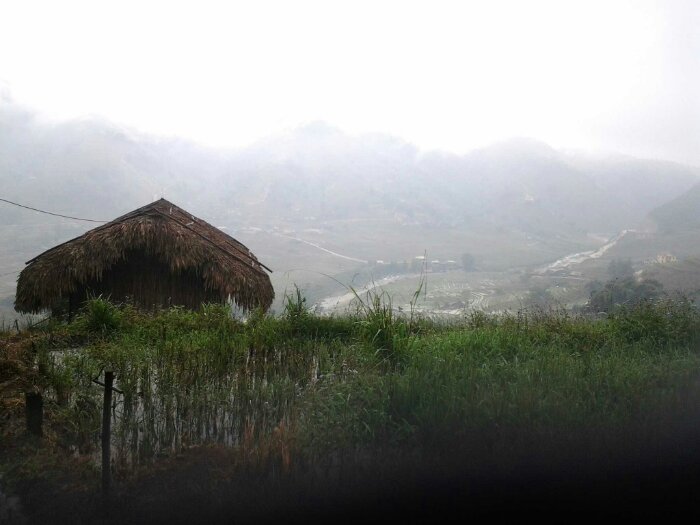 This is picture of our hut and the river valley beyond.
There is so much water running down off the mountains that the rice paddies are full of water and overflow. Supplying water for a house just requires diverting a spring into a pipe and down the hill into the house.
We are  going to do a cooking lesson here. If  last nights Green papaya salad, vegeterian spring rolls, tofu and pumpkin hotpot and sweet potato soup as a dessert meal is anything to go by then im looking forward to the lesson.
The owner of the H'mong retreat donates to local schools we saw some of the results of this while walking to Ta Phin a school with a new boundary wall all around the outside of it.
More to come re cooking lesson later.